Color Fringe Reducer 5.0
For the GIMP on Linux, Mac, or Windows
Finally a fast and easy solution for correcting purple fringe (or any color) in the GIMP in either Linux, Mac, or Windows. Being cross platform, anyone can enjoy the benefits of reducing color fringe quickly and easily. And if you are a user of
Photoshop Elements
, you have a viable solution now too. Just open your image in the GIMP, run the script to correct the color fringe, save the file losslessly as a psd or png and open it up in Photoshop Elements to finish your work on the now corrected image. Your long wait for Color Fringe Reduction is now over! The script will work with any camera images that show fringe from P&S;, digicam, and DSLR's. It is particularly effective with Sony, Olympus, Minolta, Nikon, and Canon 8mp cameras or cameras (Panasonic etc) or lenses with large zoom ranges due to their propensity to produce extra strong purple fringing, red fringe, green fringe, cyan fringe, blue fringe, lions, tigers, and bears...oh my!
Installing and running the script
Save the script into the gimp script folder. To determine where that is, open gimp and go to (File - Preferences - Folders - Scripts) once you note where the folder is, close gimp and save the script to that folder. Some common locations are:
Linux
~/.gimp-2.0/scripts/
Mac
~/.gimp-2.0/scripts/
Windows
C:\Program Files\Gimp-2.0\share\gimp\2.0\scripts\ Once the script is in the folder, run gimp and open the image you need to work on. Use the color picker tool to click on the color fringe. I get the best results by clicking the most colorful portion of the fringe, dark or pale colors don't work as good: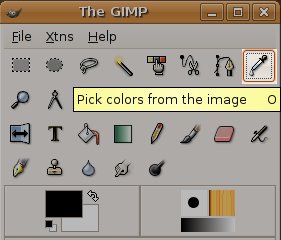 ---
Now that the fringe color has been selected, run the script (Script-Fu | Color | Color Fringe Reducer 5):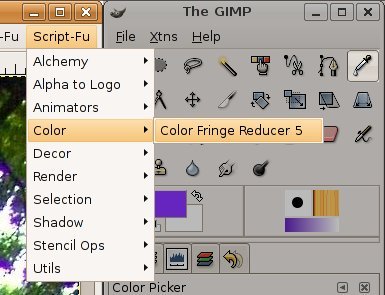 ---
You can control the strength of the fringe detection. The default is 50 and should be adequate for most users. But some images may need a finer touch, so use a smaller number like 25: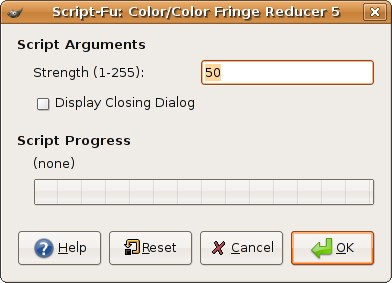 ---
Once the script finishes, you may need to edit the correction layer if there are details that share the fringe color. For example if you have purple fringe and there is a person wearing a purple shirt, you may have to use the eraser tool and erase the correction on the correction layer so the shirt retains its original color.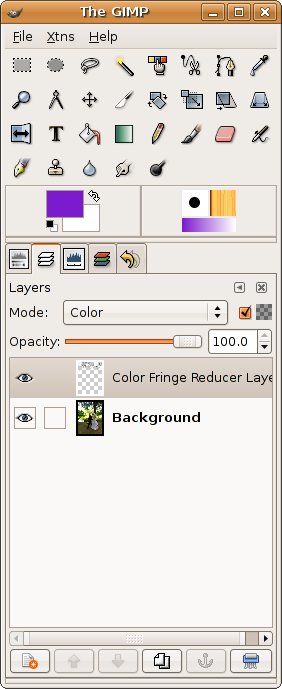 ---
Here is a before and after example of the script in action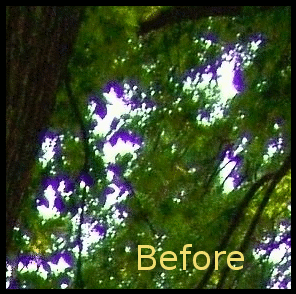 Purchase the script now
The script will be emailed to you once payment has been received. This is not automated, so please allow time for us to review the order and email the script. Wait times are typically very short if the order comes in during normal office hours (9am - 5pm EST).
Please ensure your mailbox can receive emails.
If it has been closed or is otherwise not able to receive emails we will have to use another means of delivery. If you do not receive the script within 24 hours, please contact me so we can setup delivery.

Script installation and running instructions
Download the GIMP program for:
Linux
Mac OS X
Windows